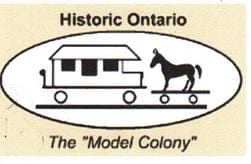 historic preservations
Model Colony Awards
The Model Colony Awards are presented each year in the spring corresponding with National Historic Preservation Month.
On May 16, 200o, the Ontario City Council established the "Model Colony" Award Program. The annual program was developed to recognize achievements in Historic Preservation within the community. The program was named the "Model Colony" Awards to emphasize Ontario's historical significance as the Model Colony.
What is the selection process? All nominations are submitted to the Planning Department for review. The Planning Department researches the nominated project to determine the eligibility of the project. Eligible nominations are taken before the Historic Preservation Subcommittee. The Historic Preservation Subcommittee reviews the nominations and makes a recommendation(s) to the Planning Commission/Historic Preservation Commission. The Planning Commission/Historic Preservation Commission then determines the winner(s). The City Council then presents the awards at their regularly scheduled meeting.
There are six categories in the awards program:
Restoration Award:
For achievement in the preservation of historic resource, that is in keeping with the historic character of that resource and an excellent example of the use of architectural styles, colors, detail, materials or craftsmanship.
Rehabilitation Award:
For achievement in the rehabilitation of the exterior of a historic resource. The criteria for judging is the same as the Restoration Award.
John S. Armstrong Landscape Award:
For achievement in the restoration or preservation of landscaping to a historic resource. The type of landscaping used is reviewed to see if it is typical of the landscaping that would have been used with the particular style or time period of when the landmark was built. The types of placement and plants and hardscape is also evaluated for the comparability of the period of significance.
Award of Merit:
For achievement in the ongoing preservation of a historic resource. The resource must be an excellent example of architectural style. The ongoing efforts must preserve historic character of the resource and consist of excellent examples of colors, details, material, or craftsmanship. 
Founder's Heritage Award:
For eligible Tier I or Tier II historic resources that have retained their historic authenticity through ongoing maintenance, preservation, and exemplary stewardship. 
George Chaffey Memorial Award:
For distinguishing leadership in the preservation of Ontario's Heritage. 
Filing Deadline: Nominations may be filed any time of the year. Any nomination filed after March 1st will be held until the following year's awards.